Making Solar Energy Accessible
For Oklahomans

Consultation
During your free consultation, we'll discuss your energy goals and ensure you are eligible for solar. We will answer your solar energy questions and determine the best solution for your specific needs

Design
Our team goes to work to design an itemized quote and optimal energy output. We'll go over available financing options and ensure you're comfortable with your decision to invest in solar energy

Permitting
We coordinate and secure all the necessary permits and paperwork, including net metering applications from your local utility company, if applicable. These agreements allow you to sell unused energy back to the grid, benefiting you and your community.

Installation
Our professional team installs your solar array and coordinates with your utility provider to connect your system to the grid. From then on, you will enjoy your solar arrangement reducing your power bills.
Switching to solar
will save you money
Not only will you receive 30% tax credits come tax time, but going solar lets you own your power rather than renting it from the grid. Owning your power means as energy bills continue to soar, you will enjoy more money in your pocket each month. Outdoor Creations Roofing & Solar is carving the way for Green Energy as one of the first roofing companies in Oklahoma to offer Solar Energy to our clients. Our team can answer your questions, walk you through the steps, and simplify the process.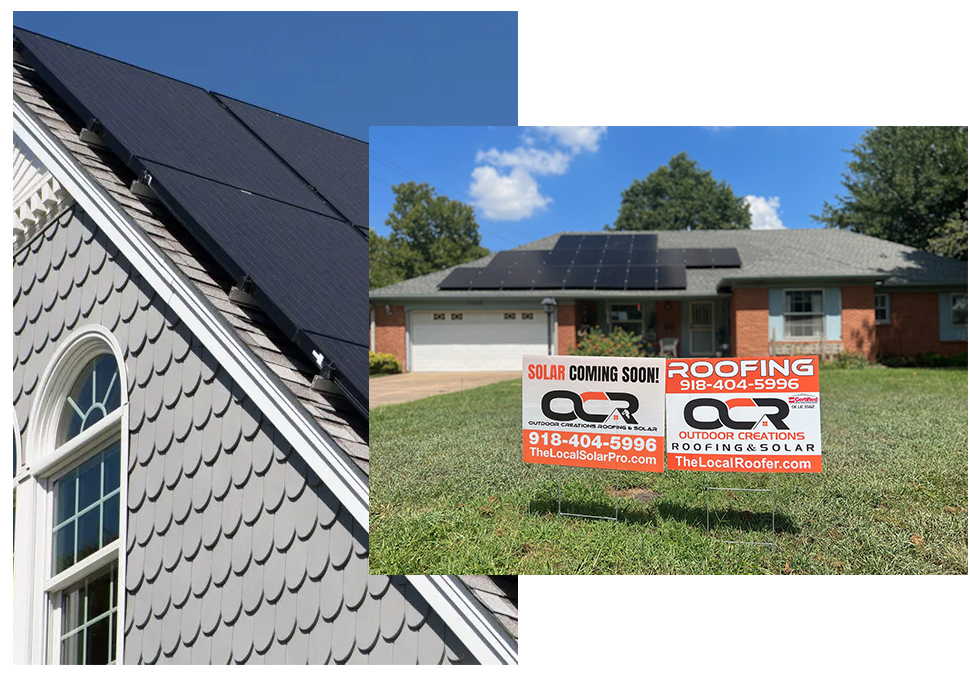 At Outdoor Creations Roofing & Solar, our commitment to your project, competitive pricing, and custom energy-saving proposals will set your mind at ease. We take care of everything, including consultation, design, permitting, and installation.


"Working with Outdoor Creations was an excellent experience. Christian was very knowledgeable & professional and accommodating. Highly recommend their services to anyone. They did an excellent job with great quality. 5 stars……"
Michael Lund
When you choose Outdoor Creations Roofing & Solar, you are supporting a local business and making a difference in the lives of others. With every Solar install we do, we donate a portion of it to feeding orphans in Pakistan through House of Jacob Ministries.
"Going Solar Saves More Than Just The Planet"